Welcome Dog Lovers! Experience life with dogs through my perspective.. 
We have a new puppy! Henry is a black English Lab. Super adorable! Read the blog posts for updates on our puppy adventure!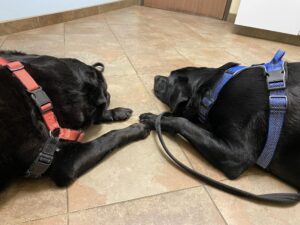 The dogs are older now.. As of January 2023, Henry is 3 and Elsie is 7. They are great dogs and we love them so much! Henry loves Elsie way more than she wants to admit that she loves him. This is a photo of them comforting each other as we wait at the vet for our vaccines.  Elsie is on the left, and Henry on the right. Elsie weighs about 80 lbs and Henry is just over 100lbs. He is also known as the worlds largest lap dog. He LOVES to sit on my lap. He thinks he is too small to go up our stairs, and too small to get up on the bed. He cracks me up!
Puppy Dog Love – a site about dogs! I will attempt to fill the pages with Pictures, fun stories, tips and advice about dog ownership and training. Have you ever wanted to share pictures of your cute dogs with the world? Or tell someone about that funny thing your dog did this morning? This is why I originally started this site – so I could share fun tidbits about my pups! I love animals of all kinds, but I have a real spot in my heart for dogs. The unconditional love, the excitement when you leave for 3 minutes and then come back, the sheer joy when they see a leash, are just some of the wonderful things about being a dog owner!
HENRY
This is Henry, our new lab puppy. He is 9 weeks old in this picture. He and Elsie came from the same breeder, and have the same dog mom, so they should end up looking a little alike. We have had him about a week and a half and so far he is a great little puppy. He understands that he should go potty outside, but of course doesn't do it 100% of the time. He sleeps well in the crate, and has learned to sit and lie down (both not 100%, but we are practicing). He loves Elsie so much and wants to play with her sooo badly, but she isn't ready. Each day, though, she lets him closer and closer and now they run around the yard together.  Read the blog posts for more!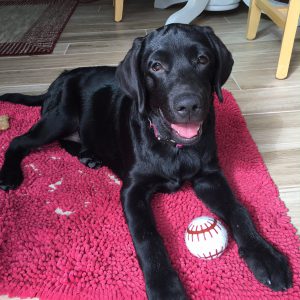 ELSIE
This is Elsie when she was 14 weeks old.  She is the prettiest lab ever! We love her to pieces. She is now 3 years old and has matured into a great dog. She is super friendly to everyone and everything. She is very socialized and is very well behaved in public. She is great with our 1 year old grandson, and other children who visit.  What are her hobbies? Going to daycare, eating pinecones, stealing shoes, and relaxing on the couch.
ROCCO
He is a 5 year old boxer. We got him as a puppy.  He stole our hearts immediately! He is an incredibly smart boy, and so cute! He has been keeping us on our toes since we got him. I have a bunch of stories, fun pictures and even some adorable videos to share. Update: He got cancer and passed away before he turned 6. We are still incredibly sad that we lost him. Read the blog posts for more details.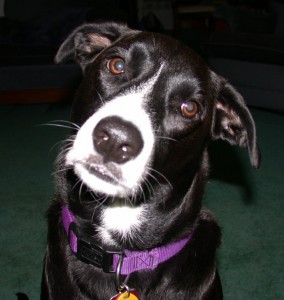 CHLOE
Our other doggy, Chloe is about 13 years old. She is a lab mix and has been the best pet ever! She never ruined anything, and when we say NO,
she stops what she is doing. She is sweet and cute and just an amazing dog. I will be sharing photos of her, too! She is a bit camera shy, but I do have some fun pictures of her, too. UPDATE: She got sick and went to doggy heaven in 2014. We miss her terribly!
UPDATE: Both Rocco and Chloe are now in doggy heaven. We miss them both terribly.  We have a 3 year old English lab, Elsie. We love her so much.  We are going to get her a new little brother in the next month or so .. The blog will now be about how we do raising a puppy with a 3 year old!
Thanks for visiting www.puppydoggies.com