Getting another black lab puppy!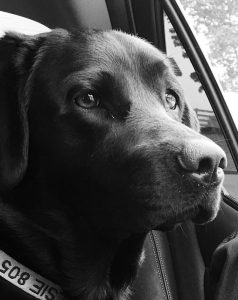 Well, guess what? One dog is never enough for us! Elsie has been the only dog for 3 years. She wants a playmate! We have decided to get her a little brother!
Her dog mom has had another litter, and we have first pick of the boys. There were only 5 puppies in the litter, and only 2 boys, but we get to choose which one we want. Its a different dog dad, so this puppy will be Elsie's half brother 🙂 
The mom is Lovey, who is now about 5 years old. She is a gorgeous jet black English lab. She looks a lot like Elsie, but bigger. Prince is the dad of this litter. He is super handsome and huge! He is a 100 lb yellow lab. We have not seen him in person, but the photos say enough!
So the puppies were born August 17, 2019. The boys are way bigger than the girls in the litter. Look at the photo! The two huge pups are the boys. This was taken when they were 10 days old.  Its hard to take good pictures of black dogs. I will do my best to get good shots when we go to pick the one we want when they are 5 weeks old.
How will we know which one we want? I think we should be able to tell a little about their personalities at that time. I hope that one just calls out to us and makes it obvious which one to choose.