We have decided to get a puppy from the same breeder that we got our dog Elsie from. She has had other litters available, but when she told me that Elsie's mom was pregnant, I knew I wanted one of those pups. They were born mid-August, and we got our deposit in so we would get first pick of the boys.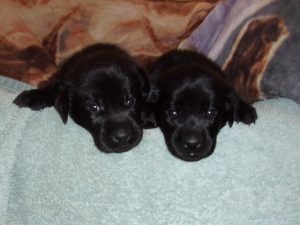 So the puppies are now almost 3 weeks old – that means 5 more weeks until we can bring him home. At 5 weeks we can go visit and make our choice of puppy. How do you pick? They are all going to be adorable! We want a boy so the choice will be a little easier, because there are only 2 boys in the litter.
Everyone says not to let the dog choose YOU, but for you to watch the dogs interact and choose the one thats not the boss, and not the most submissive one. Since there are only 2 boys to choose from, one will be the bossier one and one will be the more submissive one. We really want a dog with an even temperment, a dog that's cuddly, sweet, friendly, smart, not neurotic! But how will we know which one that is? At 5 weeks old I am not sure. Hopefully the breeder will help us choose.
But its so hard to wait. We are getting the house ready. We needed to make room for another crate in our room (thats where the pups sleep). So I got rid of my desk, and we are moving some things around. I also decided to paint the room. Why? Well, why not!? Since the furniture is being moved around, this is the perfect time.
I have also been refreshing my memory on potty training ideas, puppy training in general. Its only been about 3 years, but maybe strategies have changed. I must admit, I am a bit nervous about this whole endeavor. My husband will be the caregiver during the day. He is self-employed so has more freedom to be home with the dogs. I work full-time, so I wont really be available. I will do eves.. But my husband is not the most patient person, and may not really be up to the task of puppy fatherhood.. But he wants to do this – so I have been sending him lots of videos with training ideas, and tips and hopefully he understands a bit more of what he is getting into!
I hope to get new pictures of the puppies this weekend. The breeder said she will take some more photos once the puppies open their eyes, which will make them even cuter than before!!!