We saw Santa last week. The local mall allows dogs to come see Santa on selected Wednesday nights. I wanted to wait as long as possible to go, so that hopefully Henry would not be as susceptible to things. I was hoping to get his last shots before we went, but the vet wants to wait until 17 weeks for the last shot.
Instead we w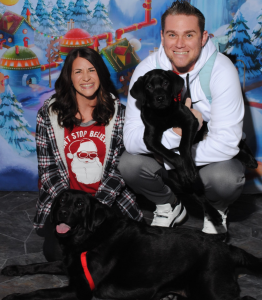 ent when he was almost 16 weeks old, and we just held him the whole time. There were only a couple dogs there, and it was fine. We only had to wait about 10 minutes to see Santa. Oh my gosh, he was a great Santa! He may have even been the real Santa. Both dogs loved him. Henry wanted to give him kisses! Elsie even came over and was friendly. The past two years she wanted nothing to do with him!
Lindsey and her boyfriend came with us, and they took the most adorable photo with the dogs! Its posted here. Its hard to get photos of black dogs if there are other dark things in the area, but this one came out so cute!
You cant see it in the photos, but Henry had a big red bow on his collar and Elsie had a red velvet collar with some bells attached. they looked adorable and got lots of attention from mall shoppers. Matthew, Lindseys boyfriend held him much of the time. Henry is close to 30 lbs and lets just say I was very happy that Matthew was there to help!
What did Henry ask Santa for? Bones, stuffed toys, and lots of fun things to chew on. Elsie asked for some yummy snacks and stuffed toys that Henry wont steal. I am sure that Santa will bring them everything they wish for because they are such sweet dogs.