Welcome Dog Lovers!
Puppy Dog Love – a site about dogs and their families. Pictures, fun stories, tips and advice about doggie ownership and training. Have you ever wanted to share pictures of your cute dogs with the world? Or tell someone about that funny thing your puppy did this morning? Here is the place to do it. I love talking about my pets, and I am sure there are others out there, too! Welcome to the site.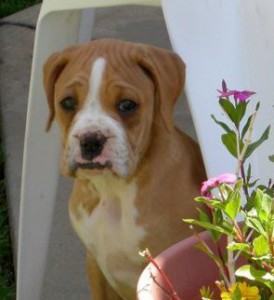 Rocco is already famous among my Facebook friends. He is a 3 year old boxer. We got him as a puppy. He is an incredibly smart guy, and so cute! He has been keeping us on our toes since we got him. I have a bunch of stories, fun pictures and even some dog videos to share.
Our other doggy, Chloe is about 11 years old. She is a lab mix and has been the best dog ever! She never ruined anything, and when we say NO, she stops what she is doing. She is sweet and cute and just an amazing dog. I will be sharing photos of her, too! She is a bit camera shy, but I do have some fun pictures of her, too.
Once I figure out how, I will have an area where you can log in and post stories and pictures of your pups, too! So start thinking of fun dog stories, find all those cute pictures of your pets and get them ready to upload!
Please comment with ideas of other things that I can include. I am very new to this, so be patient as I figure things out. Invite your friends and family members, and their pets of course – lets make this a fun place to hang out!